We all know the familiar tale: you've spent the better part of the year preparing for the best ski trip of your life, packed full with excitement and brimming with joy. And yes, maybe a little bit of stress in there too. But now it's finally here and the snow is amazing! The whole family wastes no time rushing through the rental process to hit the slopes, eager to show each other who's got the sweetest moves. But now it's 2 or 3 days later and your muscles are sore, the kids are complaining about how much their feet hurt in ski boots, and a day off the slopes is starting to sound like just the thing everyone needs. But what is there to do in a ski town when you're not skiing? Like most people, you probably thought you'd
last out the whole week no problemo, but the altitude hit everyone a lot harder than expected. So what is a family to do? Well, luckily Telluride has no shortage of fun stuff for everyone to enjoy!
Aah Ha, Arts!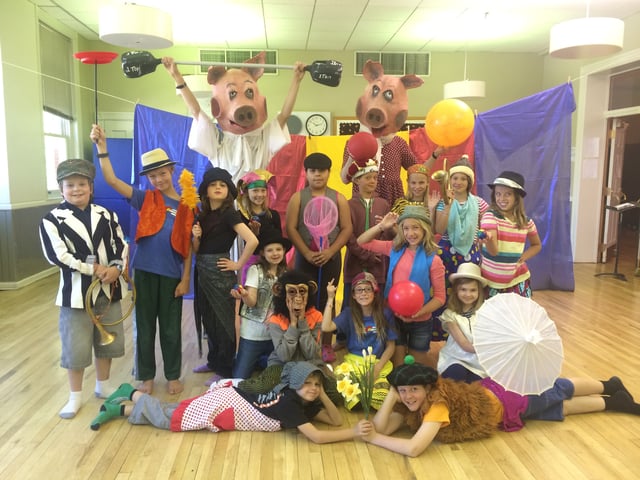 Circus Holus Bolus, a circus camp for kids
Pablo Picasso once said that "every child is an artist," and what better way to spend a cold and lazy afternoon than being inside, letting the creative juices flow. While the muscles relax it can be really nice to let the brain take over for a bit. Ah Haa School of the Arts offers many enriching programs for kids and adults of all skill levels. From stained glass workshops to comic strips or water colors, you're sure to tap into your inner artist here.

The Telluride Historical Museum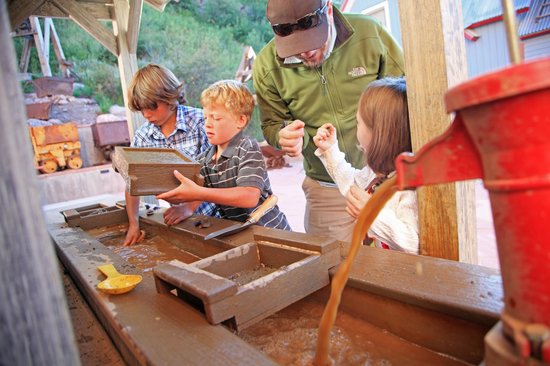 Gold panning interactive in Hard Rock, Rough Lives, the museum's outdoor mining exhibit
Telluride is an area rich with a very vibrant and exciting history. Once a bustling mining town, Telluride has changed a lot over the years. Explore what life must have been like for the first pioneers to the area, trying to strike it rich with gold.Telluride Historical Museum has an immersive and interactive mining exhibit, "Hard Rocks, Rough Lives," giving kids and adults the chance to pan for their own gold, among other fun activities. Did you know that Butch Cassidy robbed his first bank right here in downtown Telluride?
Skate, Sled, and Snowshoe Oh My!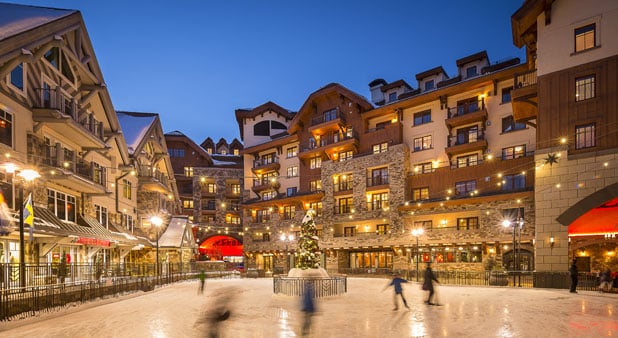 Winter Wonderland outside your door
For sledding, head over to the southern end of town to Firecracker Hill in Town Park. The Nordic Center will rent out sleds or you can buy your own at the local Ace Hardware. There is also a full-sized indoor and outdoor ice rink in Town Park, as well as a stunningly beautiful ice rink at the Madeline up in Mountain Village. Ice Skates are available at the rinks and drop-in hockey scrimmages as well as public skating are offered daily. Snowshoes and trekking poles can be rented at the Wilkinson Public Library, and the Bear Creek Trail is a relaxing and easy hike with breathtaking views on all sides.
Once Upon a Time…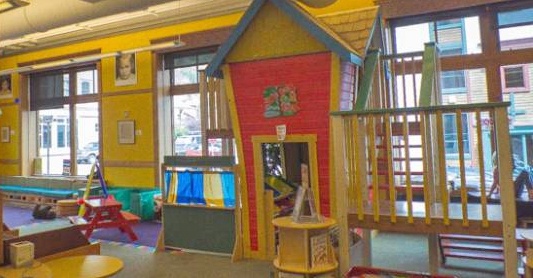 New and interactive Children's Space
The Wilkinson Public Library is one of Telluride's true gems, offering everything from an extensive movie and TV show collection for those lazy days, to an incredible play-area for children to explore. The kids' area has costumes, puzzles, games, and even a treehouse! There are popular programs as well, such as story time, arts and crafts, or a cooking club.
The Peaks Pool Party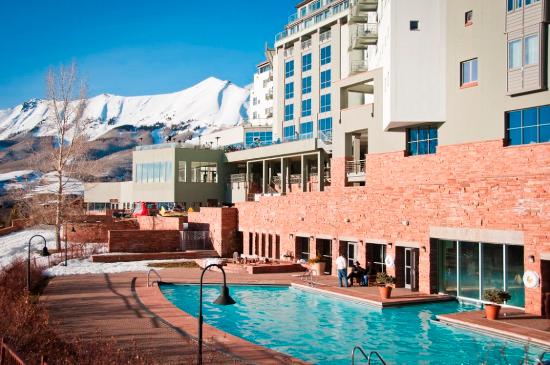 Stunning indoor/outdoor pool with deck
What every parent needs more than anything in the middle of a high-octane ski trip is a relaxing day at the spa. Fortunately, if you can't wrangle a last-minute babysitter, there are options.The Peaks has a kid-friendly pool area complete with indoor/outdoor connected pools, and hot tubs with a view. And, of course, no pool experience is complete without a waterslide!