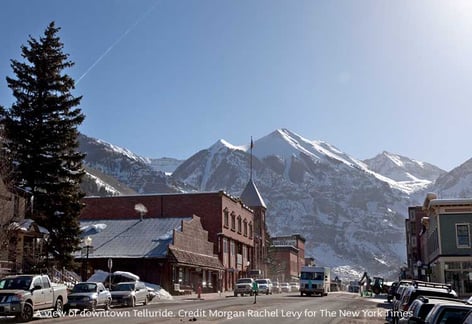 Planning a girls' trip to Telluride in the coming months? You've got to learn more about the area before you put a plan in place. In this latest article, we'll take an in-depth look at the activities taking place in and around Telluride, to help you plan that perfect getaway with the girls. Here are several fun things to do in Telluride, CO:
1 - Relax at the Madelaine Studio
With its tranquil setting over 10,000 feet above sea level, the Madelaine Studio provides the ideal spa day for your group. The spa facility offers a range of treatments, from deep tissue massages to transformational facials. The facility also includes several lounge areas in which guests can enjoy healthy snacks in a calming and peaceful space.
2 - Discover World Class Shopping Experiences
Telluride is home to hundreds of brand name stores and outlets. You can find anything you want to buy in the area, including housewares, clothing, jewelry, books and more. For a memorable shopping experience, why not explore the historic downtown and friendly plazas in Mountain Village? Here, you and your group will discover unique stores offering local products sold within picturesque natural surroundings.
3 - Explore the Hiking Trails
What better way to explore every inch of the area than on foot this fall season? Telluride is home to some of the best hiking trails in Colorado. The Bear Creek Preserve Trail is one of the most popular options for local travelers. It's a trail that takes you through the wooded areas of Telluride and ends at a spectacular waterfall overlooking the town.
4 - Taste the Flavors at Delicious Dining Establishments
If you're still not finished taking in the tremendous mountaintop views once you've completed your hiking trail, why not make a stop in for a much-required energy boost at one of the town's many exquisite dining options. A leading choice for local diners is Allred's Restaurant. Patrons at Allred's Restaurant are treated to a memorable dining experience featuring options such as cider-brined pork chop and bourbon marinated elk loin, from a restaurant situated at the top of the area's gondola.
5 - Create Memories Among the Thriving Nightlife
The nightlife in Telluride will provide an option for all types of traveler, whether your group simply wants to enjoy a warm drink among friends by the fire or spend the night dancing away and making connections with fellow visitors. One great option for a fun evening in a high-class atmosphere is the Cosmo Bar at Hotel Columbia, which offers a range of menu options as well as happy hour specials for memorable evenings with friends.
Telluride is the perfect destination for that upcoming girl's trip. To discover more about the many things to do in Telluride, CO, book your trip today!