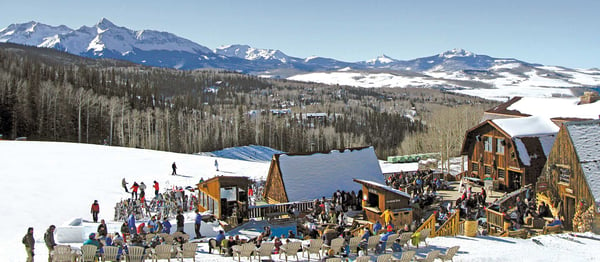 The Beach at Gorrono's Ranch
Telluride boasts some of the best ski apres locations in the world, with incredible views and ski-in ski-out locations for everyone. Just what type of apres you seek will help determine
what location is best suited for your apres needs! Gorrono Ranch is a beautiful cabin-style patio located halfway down the ski runs off of Mountain Village's base lift-4. During pretty much every day it isn't snowing outside they have live music and fires roaring for the guests. The beach-style seating is fun and you can even play games like cornhole or sometimes even volley ball. There is great food like burgers and chicken inside the main building, and a smokehouse offers pulled pork and other delicious bbq foods as well.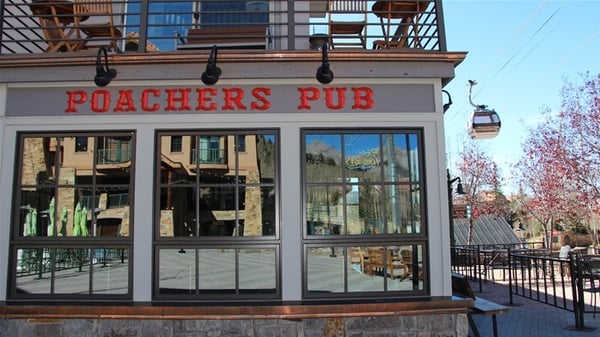 Poachers Pub
Poacher's Pub is the local hangout in Mountain Village after a hard day of skiing, and you'll easily get your fill of the local gossip here. They offer English-style fried food as well as a large drink selection, along with pool tables and darts. This is where most of the people who work on the mountain come to Apres, so you can guarantee your fill of local secrets and funny stories hanging out here for an hour or two. Everyone is always very friendly and happy to meet a new face, so don't be a stranger and stop on in! It's located near the top of Lift 1, just a short walk from the base lift-4 in Mountain Village.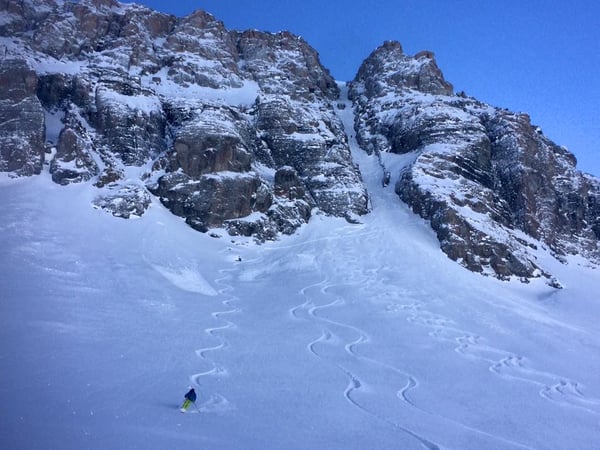 Scott Kennett lays down some nice turns as he finishes up a lap through the infamous San Joaquin Couloir
Telluride has some of the best and easiest accessed sidecountry and backcountry skiing in the world, and just because you might not have the skills to ski the couloirs and chutes doesn't mean you can't revel with the heros. On your average powder day in Telluride, hundreds of skiers and snowboarders can be seen dropping into the backcountry through the backcountry gates with their radios and their backpacks. Almost all of these expeditions ends up at the same place, and that's the Bear Creek Egress Trail heading back to town. This can provide a quick loop for those trying to maximize vertical, and it spits the skiers right back at the base of lift 7 and the Gondola Station in the Town of Telluride. When they're getting tired, the poplular and usually easier meet-up is at The Oak, located right across from the Gondola. Here, grab some great southern-style cuisine and enjoy a beer, as you watch skiers and snowboarders pour in by the dozen as they throw their gear to the side and swap stories. You're guaranteed to meet a pro-skier or two while you're here if you pay attention and there is no shortage of stoke.