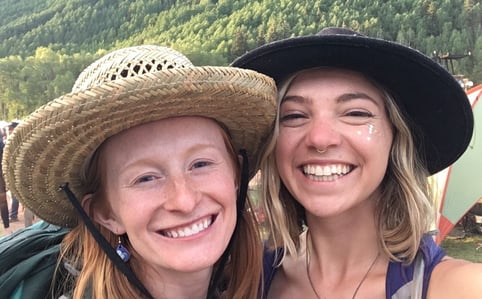 Tip it back, raise it up; it's Blues and Brews. This Telluride Festival, running from September 12-16, 2019, has a good mix of everything we mountain people enjoy; Craft Beer, Good Music, and Public Activities. This year marks the 26th annual showing with twenty-nine Performers and fifty-six Breweries. Below is a quick description of what to expect mixed in with my own Telluride Festival experience tips and tricks.
Kick off the festival with a free performance from Ida Mae and Southern Avenue in Mountain Village Sunset Plaza on Thursday evening. Take a Gondola ride to the town of Telluride following the show and enjoy appetizers and drinks at my go-to local spot, There Bar.
Friday through Sunday from within town park, listen to a variety of music ranging from blues to funk, to jam bands and rock. Bring a blanket or low chair to claim your spot early in the morning (only as much space as you need!). The Grand Tasting takes place on Saturday with vast flavors of beers and ciders sure to please your taste buds.
If you enjoy slow and still mornings, check out free yoga in Elks Park Saturday and Sunday mornings. Or, if you are looking for more of a challenging start to your day, join the 5k fundraiser race for our local Telluride Adaptive Sports Program on Saturday morning or a leisurely hike with Backpacker Magazine on Sunday morning (there will be free swag and demos!).
Insider tips:
1. Bring a small backpack or fanny pack! You can keep all your essentials with you while you dance and keep from misplacing them a few beers in. If you do not have one, check out Jagged Edge Mountain Gear near Town Park.
2. Get moving with a short hike between shows. Jude Wiebe, Cornet Creek Falls, Little Hawaii, and Bear Creek can all be accessed from town and are easy to moderate treks that can be enjoyed without taking up a lot of time.
3. Check out Sister's Pantry within the festival! Every local could tell you about her cream cheese wontons. Pair with some dumplings and you've got a meal you can't resist.
Full 2019 Blues and Brews Festival Schedule below:
Thursday, September 12
SUNSET BLUES CONCERT

5:00 - 7:00 PM    Ida Mae    Mountain Village Sunset Plaza
5:00 - 7:00 PM    Southern Avenue    Mountain Village Sunset Plaza

BAL DE MAISON

9:00 - 11:00 PM Cedric Burnside Sheridan Opera House

Friday, September 13
MAIN STAGE

11:30 AM Festival Gates Open Festival Grounds
12:00 - 1:00 PM Southern Avenue Main Festival
1:00 - 2:00 PM Alex Paul And The Birds Of Play Blues Stage
1:30 - 2:30 PM Low Cut Connie Main Stage
2:00 - 3:00 PM Otis Taylor Campground Sessions
2:30 - 3:40 PM Ida Mae Blues Stage
3:00 - 4:00 PM Cedric Burnside Main Stage
3:00 - 4:00 PM Jake Xerxes Fussell Campground Sessions
4:10 - 5:20 PM Willie Farmer Blues Stage
4:30 - 5:40 PM VIP/Brewers Reception VIP Area
4:30 - 5:40 PM Samantha Fish Main Stage
5:40 - 7:00 PM Joanne Shaw Taylor Blues Stage
6:10 - 7:20 PM Ryan Bingham Main Stage
8:00 PM John Fogerty Main Stage

JUKE JOINTS ($)

10:00 PM Joanne Shaw Taylor with opener Ida Ma Sheridan Opera House
10:00 PM Low Cut Connie with opener Husky & The Slow Attack The Moon At O'Bannon's
10:00 PM Tab Benoit with opener Eagle Eye Williamson Blues Stage
10:00 PM Joanna Connor Band The Liberty
10:00 PM Stand Up Comedy - "Dirty Shows" with Host Troy Walker and Guests Debra DiGiovanni, Caleb Synan, Candice Thompson, and David Stocker Back Porch Comedy Club at the Wood Ear
11:30 PM - 1:30 AM Mitch Woods Club 88 The Liberty
12:15 AM - 1:30 AM Molly Gene One Whoaman Band Wood Ear

Saturday, September 14
MORNING EVENTS

8:30 AM    Blisters & Brews 5k Fundraiser Race    Elks Park
9:00 AM - 12:00 PM    Telluride Blues Challenge    The Elks Lodge
10:00 AM - 11:00 AM    Yoga Sessions    Elks Park

MAIN FESTIVAL ($)

11:00 AM Festival Gates Open Festival Grounds
12:00 - 12:50 PM International Blues Challenge Winner Ms. Hy-C & Fresh Start Main Stage
12:00 PM Grand Tasting with 56 Breweries Festival Grounds
1:20 - 2:20 PM Otis Taylor's Psychedelic Banjo Posse Main Stage
2:00 - 3:00 PM Eagle Eye Williamson Campground Sessions
2:40 - 3:40 PM Phil Cook Main Stage
3:00 - 4:00 PM Alabama Slim Blues Stage
3:00 - 4:00 PM Ida Mae Campground Sessions
4:10 - 5:20 PM TBA Main Stage
4:30 - 5:40 PM Stand-Up Comedy with Debra DiGiovanni, Caleb Synan, Troy Walker, Candice Thompson and David Stocker Blues Stage
5:50 - 6:05 PM 2019 Telluride Blues Challenge Winner Main Stage
6:00 - 7:00 PM Joanna Connor Band Blues Stage
6:10 - 7:20 PM Tab Benoit Main Stage
8:00 PM Boz Scaggs Main Stage

JUKE JOINTS ($)

10:00 PM Otis Taylor's Psychedelic Banjo Posse with opener Grant Sabin With Michael Jennings Sheridan Opera House
10:00 PM Phil Cook with opener Molly Gene One Whoaman Band The Moon at O'Bannon's
10:00 PM Anders Osborne and Samantha Fish with opener Alabama Slim Blues Stage
10:00 PM International Blues Challenge Winner Ms. Hy-C & Fresh Start The Liberty
10:00 PM Stand-Up Comedy - "Dirty Shows" with Host Troy Walker and Guests Debra DiGiovanni, Caleb Synan, Candice Thompson, and David Stocker Back Porch Comedy Club
11:30 PM - 1:30 AM Mitch Woods Club 88 The Liberty
12:15 AM - 1:30 AM Molly Gene One Whoaman Band Wood Ear

Sunday, September 15
MORNING EVENTS

9:00 AM    Group Hike    Backpacker Booth in Festival Grounds
9:00 AM - 12:00 PM    Blues For Breakfast    The Elks Lodge
10:00 AM - 11:00 AM    Yoga Sessions    Elks Park

MAIN FESTIVAL ($)

10:30 AM Festival Gates Open Festival Grounds
11:00 - 12:00 PM The Como Mamas Main Stage
12:30 - 1:30 PM Durand Jones & The Indications Main Stage
1:00 - 2:00 PM Mitch Woods Blues Stage
2:00 - 3:00 PM Ruthie Foster Main Stage
2:00 - 2:40 PM The Como Mamas Campground Sessions
2:30 - 3:30 PM Molly Gene One Whoaman Band versus Husky Burnette - Durango Blues Train Showdown Blues Stage
3:00 - 4:00 PM Grant Sabin with Michael Jennings Campground Sessions
3:30 - 4:40 PM Hiss Golden Messenger Main Stage
4:00 - 5:10 PM Stand-up Comedy with Debra DiGiovanni, Caleb Synan, Troy Walker, Candice Thompson, and David Stocker Blues Stage
5:10 - 6:20 PM Anders Osborne Main Stage
5:30 - 6:30 PM Sandra Hall with Alabama Slim Blues Stage
7:00 PM Phil Lesh & The Terrapin Family Band Main Stage

FAIS DO DO ($)

10:00 PM Durand Jones & The Indications Sheridan Opera House