A well fitting ski boot can make a ski trip a once in a lifetime experience, one where you feel you can do anything; us locals refer to these days as the hero-days. The bumps turn to butter and you'll be carving up the groomers like never before. A bad fitting boot can mean black-and-blue toes, lost toe nails, or worse. Personally, I've suffered nerve damage from a poor-fitting boot; something I wouldn't wish upon my worst enemy. Skiing is a relatively new sport when you look at the time humans have been walking the earth, and our body's just aren't evolved for it yet. That's why the boots are so important — they add the support and strength that our ankles just don't have.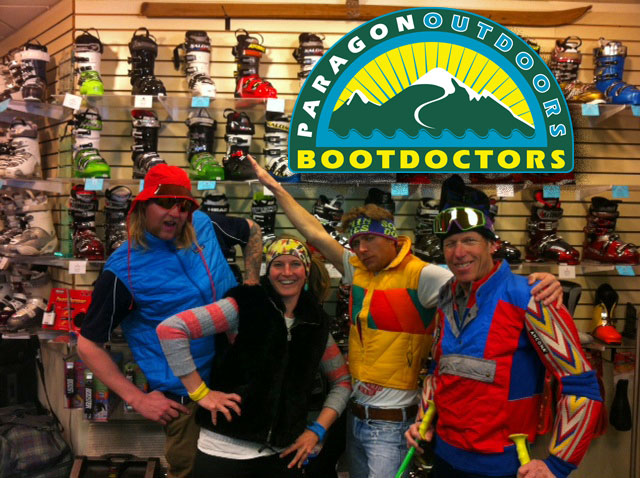 The Bootdoctors crew getting down with the 80's.
There is no more important piece of ski gear than the boots. Yes, even more important than the skis; and ski boots aren't like sneakers, you can't just pick a size that feels "close enough". Too large and your toes will be smashing the front of the boots all day long. Too small and you'll cut off your circulation. The benefits of a great-fitting pair of boots is the single greatest favor you can do to yourself and to your skiing. Your skiing will improve drastically, your turns will come around quicker, you'll have more control, and you will all around feel much more comfortable. This means skiing longer and more runs without the normal fatigue or soreness. Not to mention the added luxury of having warm toes when the rest of the mountain is complaining about how cold their feet have been since they woke up.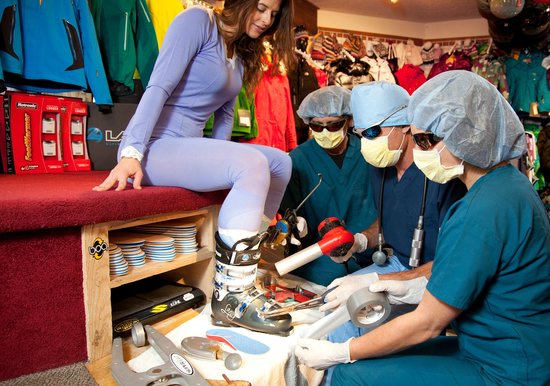 The Doctors have perfected the science of the ski boot.
Every ski town has their go-to boot guru, and here in Telluride there is none better than the Bootdoctors. With multiple locations in town, they are hard to miss, and impossible to beat. The individualized care they give to each patient is unmatched and you'll spend the rest of the week beating yourself up that you hadn't had your boots fitted years ago. Technology and science has made huge strides in the last few years and you're doing yourself a massive disservice to simply settle for your old, worn out, ill-fitting boots. So before you splurge on that expensive dinner or think about a flashy new pair of skis, poke your head into the local Bootdoctors' shop and see what it is all about. I absolutely guarantee it will be the biggest gift you give yourself this season.