Over the past week Telluride has recieved nearly 2 feet of fresh snow! Anyone who is familiar with Telluride knows how important it is that we are finally getting some real snowfall, as the drought this winter has been unlike nothing any local has seen for over 30 years. But it looks like that all is finally starting to reverse itself as the mountains return to their normal, wintery look. What does all this new snow mean for skiers? Well of course it means faceshots and fresh powder for everyone! With 11 open lifts and 29 trails, as well as a summit base of 30", things are definetly looking up for everyoe.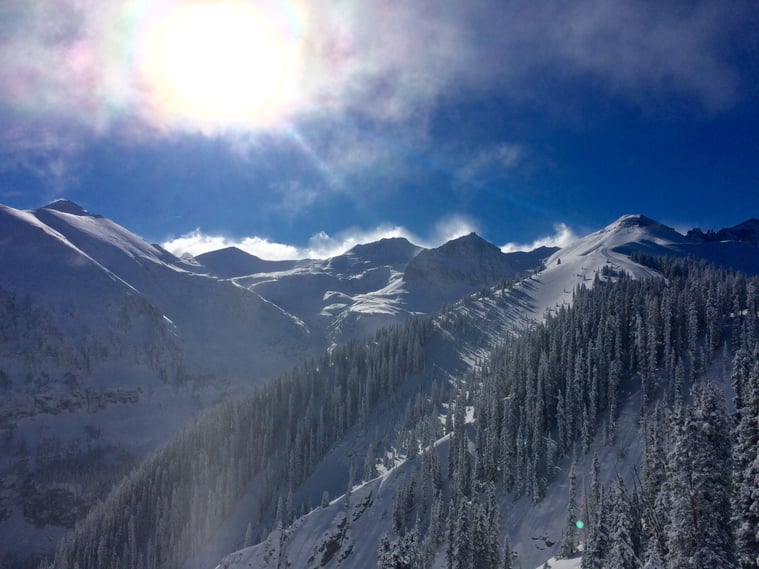 Peering into the infamous Bear Creek at Telluride after the most recent snowfall
Although Telluride still needs more snow to get much of the mountain open, the fresh snow is exactly what tourists and locals needed to feel great again. Along with the storm passing, they have been blowing man-made snow quickly and effectivly to the most needed areas, meaning that there is still plenty of terrain for everyone. Runs for every level up to Black Level riders and skiers means that everyone can be spread out and happy. Plus, it looks like the storm is trading in for bluebird skies again so the skiing will be absolutly delightful.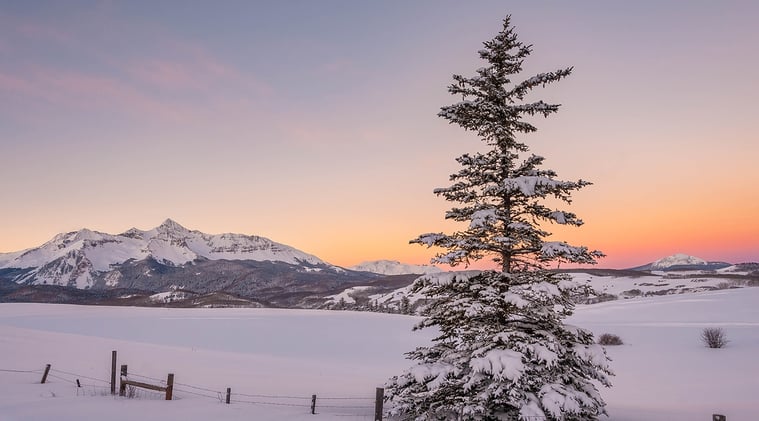 The incredibly picturesque Wilson Peak at Sunset after a fresh snowfall
With an incredible Intermediate Terrain Park already open and running as well as a Beginner "Pocket Park", both off of lift-4 from Mountain Village, Telluride is certainly doing well. On top of that, join in the fun that is the infamous "Super-Loop", traveling up lifts 4, 5, and 6 and then taking the beautiful and scenic Blue-Level run "See Forever" loop back around and down to "Misty Maiden" as it soars back into Mountain Village. Or for the more adventurous skier, turn off to the right halfway down "See Forever" as it turns into the popular and stunningly beautiful Double-Blue "Look-Out" Trail. Aptly named for the beautiful views of the Town of Telluride, the name can also double for the way the run can sometimes very quickly turn into bumps as the locals race down to town. At the bottom, you can either head down the very steep and sometimes icy run "Bail-Out", a straight-down evacuation chute rated as a Black-Diamond that eventually ends in town at the Gondola. Or you can turn off earlier and use the "Telluride Trail" to safely and slowly return to the same destination. Chair 9, the "Plunge" lift, is also up and running at the bottom of "Look-Out" for any guests who wish to instead head back for the top and do it all again!