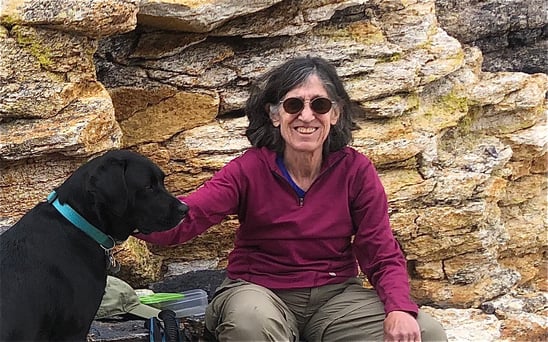 Sweet, little, Alice sits behind a pair of glasses at her desk in the upper level of the Library. She welcomes your questions about printing and book searching with a helpful hand and a smile.
Alice moved to Telluride approximately seventeen years ago after her youngest son moved away for college. Spending much of her life in Colorado, living all over the western slope, she was drawn to experiences in the mountains. She describes herself as an avid outdoor enthusiast, spending her free time hiking, skiing, and road biking. Alice has been working at the Wilkinson Public Library for nearly a decade (previously working at the Bookstore).
Like many at the Library, she is happy to be a part of such a staple for the community. She says, "Our library is special because it is just as much a community center as it is a Library". The Library hosts several free public events from book talks to yoga to legal aid. They help with acquiring passports and fingerprinting and offer space for groups to commune. "We are the center of the community,'' she admits.
Thanks to Alice and the others at the Wilkinson Public Library we can enjoy not only book rentals but also movies, instruments, telescopes, board games, frisbees, and so much more. Alice says, "It is nice that we have something for all ages; kids, teens, adults… everyone." The Library features a kids area with fort and bean bags, a teen space for playing instruments and working on computers, and private conference rooms for adult meetings or tutoring. They have it all, and more.
So for your next rainy day, ditch the iPads and rent something for the whole family to enjoy. While there, don't forget to say Hi to our friend, Alice and the rest of the friendly, notable locals working at our Wilkinson Public Library.