Mountain biking in Telluride and the San Juan Mountains is an experience of a lifetime. The terrain is perfect for all types of riders and abilities. There is something for everyone – from the beginner to the expert and from the young to the old.
For the beginner and any bike ability, take an easy cruise along the San Miguel River Trail where you may see a herd of elk grazing below. If feeling ambitious to explore, connect to old mining roads which are great to experience the old mining history in Telluride. These roads can be taken high above the box canyon. If looking for longer more moderate or advanced trails, mountain bikers can find old railroad tracks that meander throughout the valley.
For the adventures biker looking to test adrenaline on two wheels, the Telluride Ski Resort has an amazing trail system taking riders through aspen groves, meadows and down steep, fun single track. Riders can also access the trails from the scenic gondola where there are bike rides to carry bikes up to the top of the mountain. From the San Sophia Station, trails can be accessed with lots of fun to be had.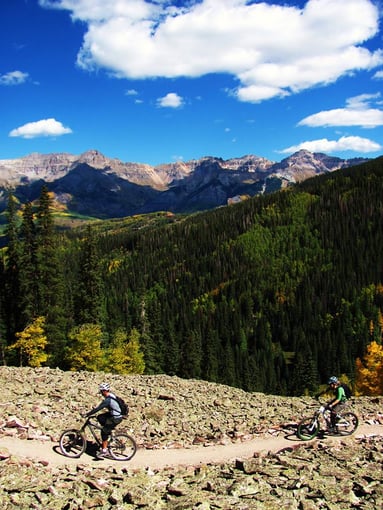 There are a series of trails on the north side of the Valley Floor. Prospect Loop is a local's favorite (usually not e until July 1st due to elk calving season).

For the more expert and advance, try the Wasatch Trail Loop. This is an amazing trail with considerable elevation gain that brings you to 13,000 feet over nearly 18 miles. Plan carefully and expect to be exposed above treeline for 2-3 hours on this epic-inducing loop. The descent is expert terrain, with difficult switchbacks, loose rock, and consequential falls. This ride is not for the faint of heart, only for the very experience rider!
As with any activity, bring lots of water - more than you think! The terrain can be dry and altitude is higher. See you on the trails!
Photo: Biking the Prospect Trail