As summer comes to a close and the weather is starting to change, this time of the year is some of the best time to get out and take some scenic drives. The leaves changing throughout Telluride is some of the most spectacular landscapes anyone could ever see. The chilly evenings and the crisp mornings will remind us all that the ever changing seasons are happening.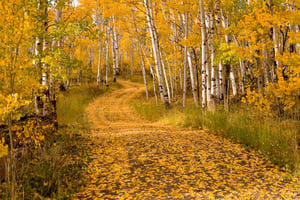 Dallas Divide:
Fall colors in Telluride should not be missed and one of the best places to take it all in is Dallas Divide. Although the land in this area is privately owned by the fashion designer Ralph Lauren, he does allow people to drive through this area. The aspens and changing colors in this area are amazing.
Last Dollar Road:
If you are looking for a taste of off road driving, taking the Last Dollar Road might be your answer. This dirt road that connects Telluride to Ridgeway is a wonderful two to three hour drive that provides great scenery and amazing views. It was originally used as a critical mining supply route. If you are driving from Telluride, take CO 145 west about 5 miles and turn right onto Last Dollar Road. This road provides a great entry level introduction to off roading.
Imogene Pass:
This drive is only for the experienced off road drivers. Although this drive is known to have some of the best views in all of Colorado, it can be extremely dangerous. It is considered one of the most difficult off road excursions one can go on. This road is one of the highest in all of Colorado. Do not take this drive lightly. There are some very dangerous and techinical spots along the way.
Whether you are an expert at off roading, or you simply want a relaxing drive in the mountains, there are plenty of areas in Telluride to go exploring. Something about the open mountain road with the crisp fall air really makes for some amazing memories.