There are so many people who come to Telluride and think the Ski or Snowboard Lesson is for kids only. Or that it can help to take one when you're first learning, but once you're past the greens and onto blue runs and beyond they just aren't worth the money. This couldn't be further from the truth. The Ski and Ride School here at Telluride is so expansive and talented that there is definitely someone for every type of Skier or Rider. Whether you're a blue level skier that wants to start learning how to improve their form and maybe take on a Black Diamond run for the first time, or you're a snowboarder who can ride the whole mountain but wants to learn how to start doing some tricks in the terrain park. Even if you just want someone to show you around, there are so many hidden treasures at this resort that it's impossible to learn all the stashes unless you're rolling with a local.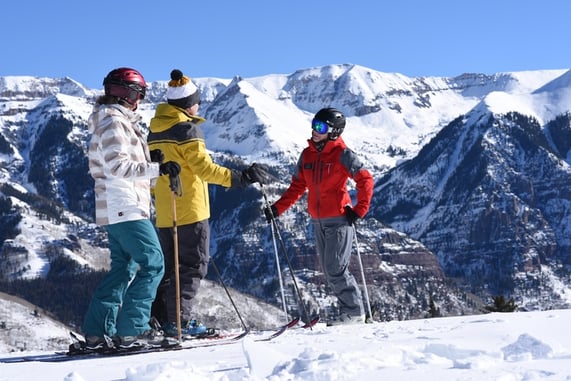 Have you ever heard of Biomechanics? In skiing, Biomechanics refers to the way the body moves. It's all about the mechanics of our body and how it relates skiing and the study of how we can improve our own skiimg through a better understanding of how the body works. Nature designed our bodys to be efficient, and aligning ourselves with our body's natural movements is a great way to improve on our skills on the slopes. Skeletal analysis, foot and ankle mechanics, boot structure and alignment, hip and knee mechanics, and blending all of these skills is what will set you apart from the rest of the pack.
Along with Biomechanics, there are many different skill and so much knowledge available to learn. With all of these tools and tactics, you can start not only experiencing and enjoying more and more difficult ski runs, but you can even begin to do so with more ease. Learning how to use your body efficiently and effectively can help alleviate a lot of the soreness and feeling of exhaustion many feel after a long day of skiing. The reason is because we are actually using our body the way it was meant to be used, and we aren't fighting with ourselves and our skis to get down the hill.
And you never know, you might make a new friend while you're out in your ski lesson! Not only that, but say goodbye to long lift lines. When you're cruising with the Ski School or in a private lesson you get to hop in a special designated line, one that never has a wait to get on the chair. So no matter what skill level you are, beginner, intermediate, or expert, a lesson is a guaranteed good time.