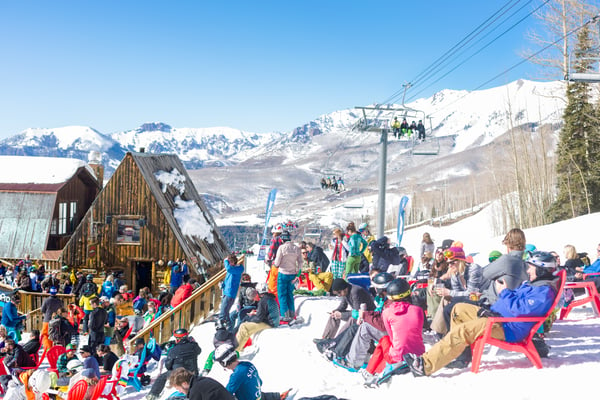 Telluride is a special place with many special people. Here, it is accepted and even encouraged to be unique and be proud. To just be you, your own freak self. Founded in 2002, Telluride Gay Ski Week encompasses this same mentality in full color. It is a celebration of love and acceptance. To be gay and be proud. TGSW has flourished in recent years with all sorts of activities and entertainment taking place day and night. Find out what to expect this year and why this is one of the most fun events of the season.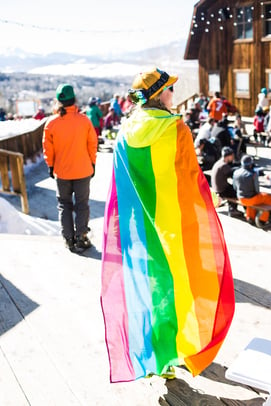 Saturday
Gay Ski Week will take place this year February 22 through March 1st. Daily happenings include a skier/snowboarder meet up at the bottom of lift four at 10am, and an Apres Ski at Liberty Bar from 4-6pm. From there, enjoy a kickoff dance and music cocktail party at The Liberty. The New Orleans band, Boyfriend will be rocking with some feel good groovy tunes late into the night.
Sunday and Monday
Daily ski meet up and Apres Ski continue along with a Night at the Opera and Karaoke on the 23rd. On the 24th, check out the local favorite restaurant, Esperanzas, for a Mexican Monday Dine out including margaritas, imported beers, and authentic Mexican food.
Wednesday and Thursday
TGSW heats up mid week with an evening of Mardi Gras at the Liberty Bar on Tuesday and Drag Bingo at Elks Lodge Wednesday. Then on Thursday, the biggest party of the year, The White Party at the Sheridan Opera House (Photo Right by Nicko Ferguson). Put on your finest white out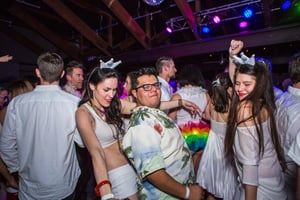 fit and dance the night away beneath the black light. BONUS: this year Telluride Gay Ski Week is also offering a pre White party, Off-White Party with Megan Hamilton at the Liberty Bar!
Friday
Events on Friday include ice skating and a live concert with the folk/pop Colorado Band, SHEL at the Sheridan Opera House, 8pm. And for the big finale, where it all started, the Aid Benefit Fashion Show Gala on Saturday at The Telluride Conference Center (photo below by Abie Live Say Photography). This show alone will give you the full Telluride Gay Ski Week experience. TGSW describes this show as "New York Fashion meets Cirque de Soleil". The funds being raised to support HIV and AIDS education and care in Colorado and Africa.